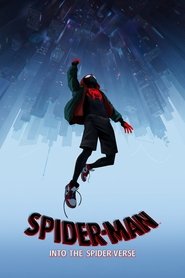 Spider-Man: Into the Spider-Verse
Enter a universe where more than one wears the mask.
Dec. 14, 2018
USA
131 Min.
PG
Synopsis
Story:
In the classic Spider-Man mold Miles Morales must juggle his high school life with his status as a superhero. Until he learns by Peter Parker, the original Spider-Man, that there is a multiverse, called the Spider-Verse in each reality has their own Spider theme hero. Or
Spider-Man crosses parallel dimensions and teams up with the Spider-Men of those dimensions to stop a threat to all reality.
Miles Morales comes across the long-dead Peter Parker. This Peter Parker is not from his world though; he's from somewhere else in the multiverse. With Parker's guidance, Miles will become Spider-Man: and through that he will become part of the ever-expanding 'Spider-Verse'.
Written by Johnny On (

IMDB

)
---
Directors:
 Bob Persichetti
Peter Ramsey
Rodney Rothman
---
Writers:
---
Comic Characters Creators:
Fabrice Sapolsky
David Hine
---
Miles Morales creators:
Sara Pichelli
Brian Michael Bendis
---
Spider-Man creators:
---
Movie Producers :
Avi Arad
Phil Lord
Christopher Miller
Amy Pascal
Christina Steinberg
---
Executive Producer:
Brian Michael Bendis
Will Allegra
Stan Lee
---
Music by :
---
Movie Casting:
---
Production Design By:
---
Country:USA
Language: English
Release Date:
14 December 2018

(In USA)
---
Movie Production Companies
Columbia Pictures Corporation
Lord Miller
Marvel Animation
Marvel Entertainment
Pascal Pictures
Sony Pictures Animation
Sony Pictures Entertainment
---
Distributors In USA (Theatrical):
Sony Pictures Releasing
Columbia Pictures Corporation
---
---
Original title
Spider-Man: Into the Spider-Verse
IMDb Rating8.0 118 votes